Ezumakeeg
gallery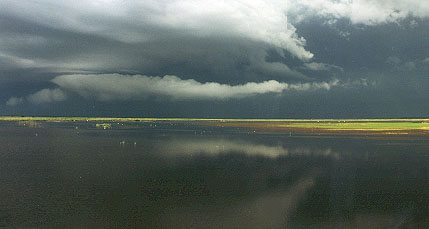 The Ezumakeeg

The Ezumakeeg is a wetland in the North of Holland in the province of Friesland and is part of the birdfamous Lauwersmeer area. Since 1998 an area of farmland was inundated and surrounded by dykes. The rain had to control the waterlevel from that time on. The year 1998 was wet, which resulted in just the right waterlevel to see a lot of waders in July and August. Highlights that year were a Long-billed Dowitcher, up to two well-twitched Sharp-tailed Sandpipers and a Semipalmated Sandpiper. Also several Marsh and Pectoral Sandpipers were seen. This summer was very dry and the area was a desert before the good waderperiod started. In spring, however, a White-tailed Plover was seen by a small group of birders (no pictures taken unfortunately).

This bird and a reported Collared Pratincole (both to be accepted by the Dutch Rarity Committee) brings the number of waderspecies seen in the Ezumakeeg since its existence to an impressive 39.

Unfortunately not all rarities could be photographed. This page shows some of the waders that can be seen at any good day in the Ezumakeeg (except one!).
¬

Bosruiter/Wood Sandpiper

Kleine Strandloper/Little Stint

®

­

Krombekstrandloper/Curlew Sandpiper

®

¬

Temmincks Strandloper/Stint

Siberische Strandloper/Sharp-tailed Sandpiper (picture by Arnoud B. van den Berg)®

The 2nd for the Netherlands. It staid from 6 to the 23rd of August 1998. A second was present from August 6 until 8.

¬

Kleine Plevier/Little Ringed Plover

¯

¬

Juv. Steltkluut/Black-winged Stilt

A pair raised four young in 1999 in the Ezumakeeg

Male Black-winged Stilt

®

(

Picture by Eric Koops)

¬

Watersnip/Common Snipe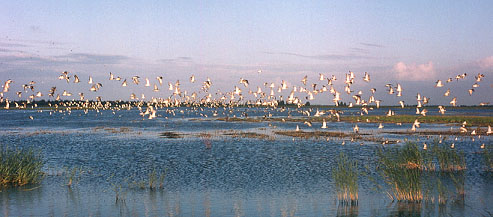 Kemphanen/Ruffs
---
Back to the main page
---