Yellow-legged Gull L. michahellis
This 1st winter Yellow-legged Gull was photographed on 4 December 1999 at the VAM rubbish-dump near Wijster in the Netherlands.
Note that this bird is moulting its wingcoverts and tertials. In this it is far ahead of Herring Gull L. argentatus which will never show such an advanced moult. In several 1000's of observations we could only find two 1st cj HG with only one 2nd generation wingcovert, making this a key fieldmark to 1st cj YLG. The only problem is that not every bird will show this wingcovert-moult. So every immature bird in autumn with no moulted wingcoverts should also be checked on other features for identification. Note that the fresh coverts show the same markings as the scapulars, i.e. a rather brown-grey feather with two clear anchors. On its left side the top tertial is fresh (and the others worn). On its right side at least two fresh1st winter tertials are visible.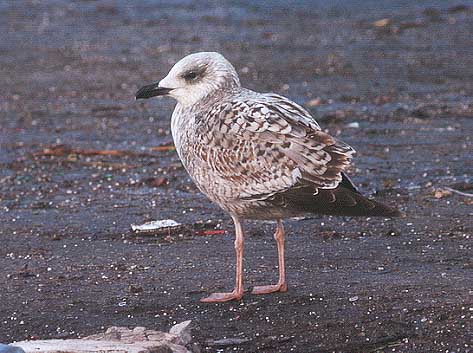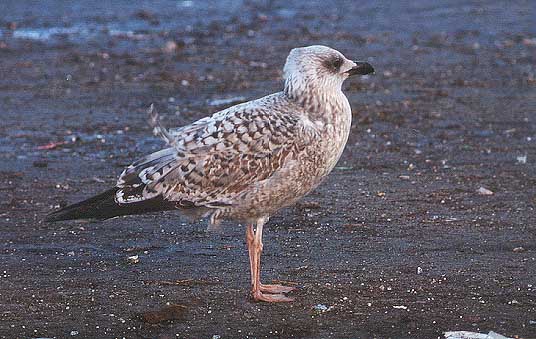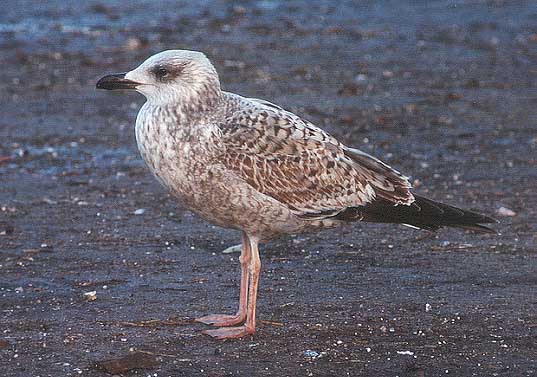 ---
Back to the gull-index
Back to the main page
---