Armenian Gull
L. (michahellis) armenicus
These gulls where photographed at Ma'ahan Mikael, Israel on 23th March 2000. Because of this date I will refer to them as their respectively calendar year (cj) instead of their summer or winter plumage.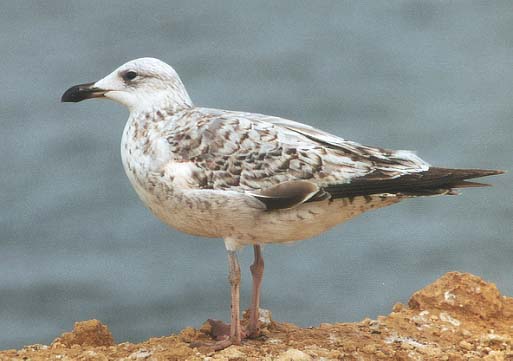 2nd cj bird, which has moulted most of its coverts and tertials. Most first-year birds I saw in that week in Israel looked quite pale with almost white head and underparts, black bill and primaries and very contrastingly patterned upperparts. More rarely the head and underparts where more spotted and the upperparts a less contrasting cold grey-brown (see below). Note also the rather short, thick bill. Among the Caspian L. cachinnans, Baraba L. (c) barabensis and Baltic Gulls L. (f) fuscus they looked quite bulky and less graceful.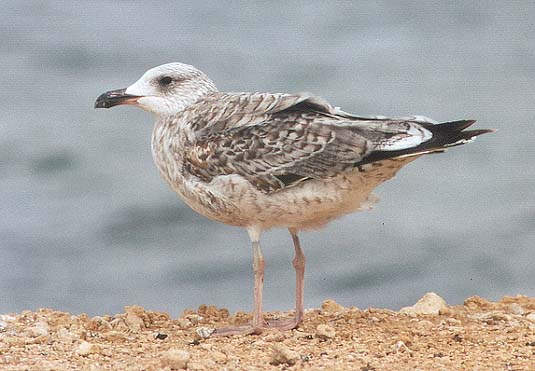 2nd cj bird with a more cold-brown and spotted plumage. This bird is also still moulting its coverts.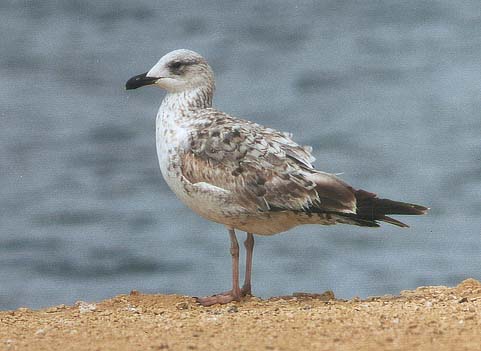 2nd cj bird in active moult of its coverts and tertials. Note again the short, firm bill, the white-toned head and underparts and the contrastingly patterned scapulars.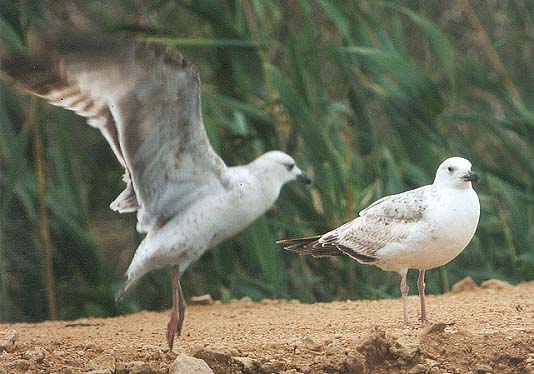 2nd cj AG on the left and a 2nd cj Caspian Gull L. cachinnans on the right. In flight I noticed on several occasions that the underwings of AG, compared to Yellow-legged Gull L. michahellis, are rather pale and that they show a more striking wingpanel.
Note also that it seems that the CG has just moulted his first wingcovert, which seems rather late.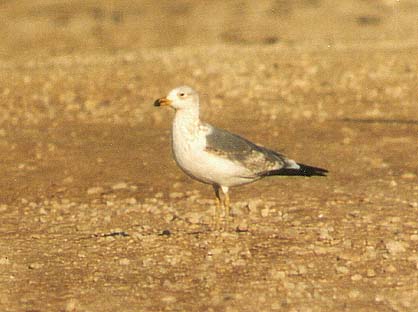 3rd cj bird, photographed at K'far Rupin on 22nd March 2000. As in similar-aged Yellow-legged Gulls L. michahellis this bird already shows a completely grey (adult) back, with some adult-type wingcoverts and tertials and yellowish legs. Unlike YLG it retains its dark eye, however.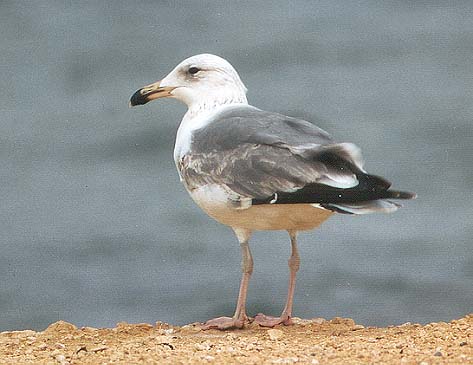 4th cj bird with some white spots on the primaries and black in at least two (outer) tailfeathers. Its legs still show quit some pink.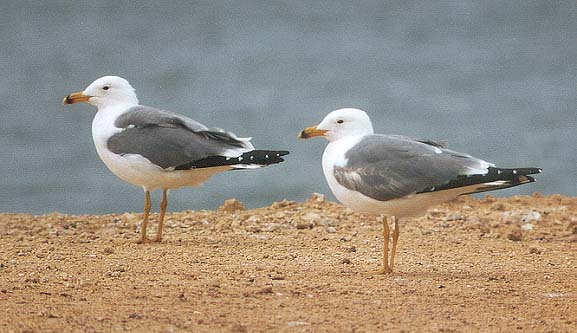 Two probable 5cj birds; the one on the left shows some of black in the tail.... Note how different their headshape can look.
---
Back to the gull-index
Back to the main page
---