Caspian Gull
Larus cachinnans
This classic 1st winter Caspian Gull was photographed on Helgoland, Germany on 1 October 2000.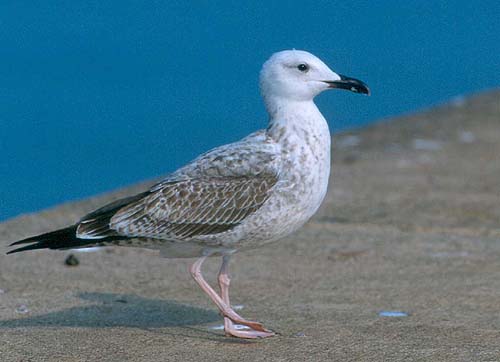 Picture by
Roef Mulder
A slender-build bird with all the classic fieldmarks of CG. Small white head with a small beady eye, long wings and legs and scapulars with extensive markings. The tertials are darkbrown with a rather broad pale edge. The lesser and median wingcoverts are dull-brown with a pale edge. The inner greater wingcoverts are also dull-brown with triangular pale markings (sharkteeth) on the side, whilst the outer ones are brown with only paler marking near the top of the feather. This bird has a rather firm bill but, then again, it is a large bird as can be seen in the bottom picture.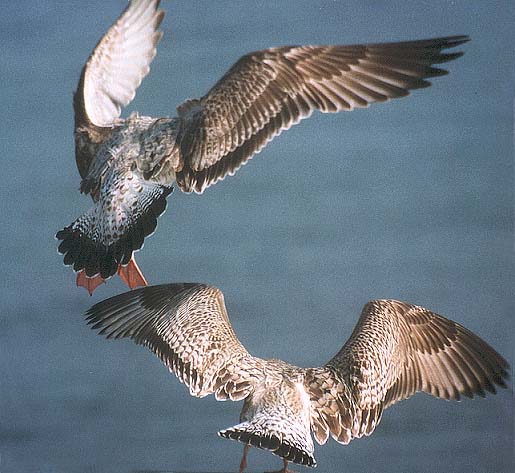 The same bird above with a 1st winter Herring Gull L. argentatus below, both atypically headless. Note the differences in wing- and tailpattern. The Herring Gull has a dull-black tailband with irregular markings on the upper tailcoverts, whilst the CG has a broad deeper black tailband with some dots in the UTC. Note the typical fine black baring in the outer tailfeathers, just above the tailband of the CG. The difference in wingpattern, especially in the greater coverts, between the two species are very obvious in this picture. Note also the difference in wingpanel between the two. In CG it is much more 'Venetian Blind' whilst in HG it is a more solid pale area.
In the picture below it becomes clear that, though slender build, CG don't necessarily have to be small birds. F.l.t.r. two adult Great Black-backed gulls, Caspian Gull, juvenile Lesser B-b Gull (dwarfed by the CG), adult HG and 2nd winter HG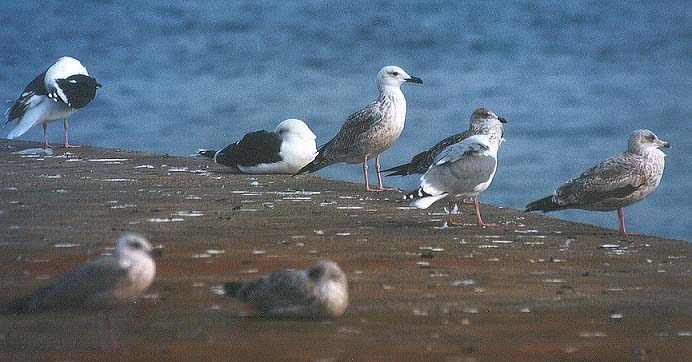 ---
Back to the gull-index
Back to the main page
---