Herring Gull Larus a. argentatus
These two different Herring Gulls were photographed at Harlingen harbour (Friesland) in the NW of the Netherlands on a rainy 24 January 2002. Since they have moulted only a few scapulars it seems very likely that these birds are of a very northern origin. Compared to the juveniles in this page and this page these birds seem longer legged, (therefore) bigger and a more frosty/speckled instead of chequered pattern on the wingcoverts. In flight both bird had a tailband similar to juvenile/1st winter Greater Black-backed Gull L. marinus i.e. ample admixed with white.
<![if !vml]>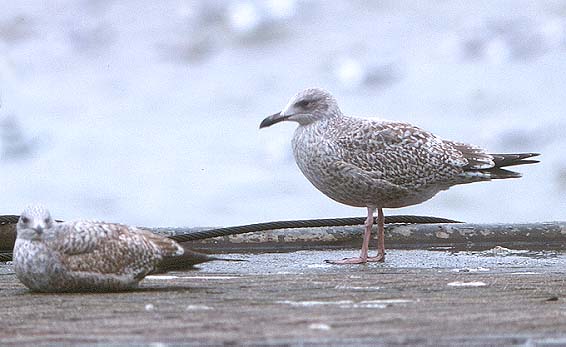 <![endif]>
Note its large size compared to the HG to the left. The bill is rather long as are the bubblegum- pink legs. The forehead is rather sloping, giving it (together with the long bill) a snouty look. The head and underparts are densely grey streaked whilst the lores are pale. The scapulars are largely juvenile with some 2nd generation feathers. The bird is overall fresh-looking.
The same bird appears in the picture below.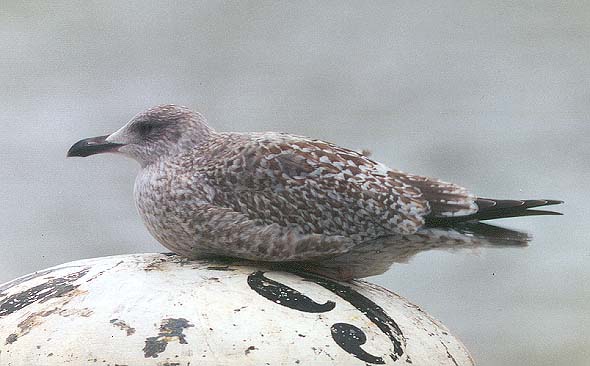 ---
<![if !vml]>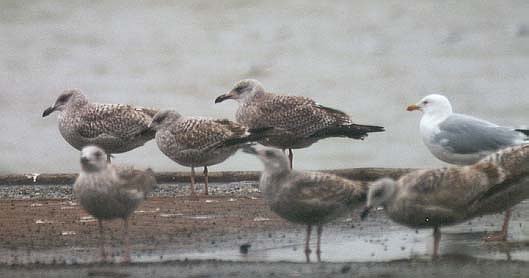 <![endif]>The 2nd bird (the large dark one in the middle) was similar in size, structure and moult to the first one. It was, however, darker with an almost uniform dark belly (giving it a bit of a smithsonianus-look) and it seemed somewhat longer-billed.
The same bird appears below.
For a real plea for this type of Herring Gull by Anthony McGeehan see Dutch Birding vol. 24:1 pages 41-44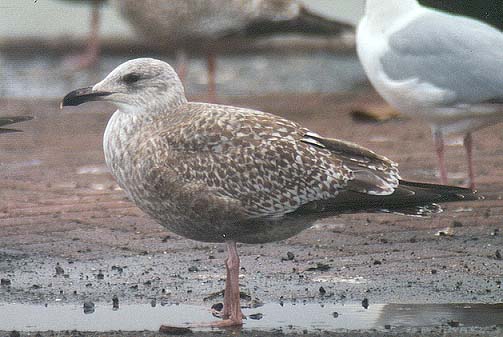 ---
Back to the gull-index
Back to the main page
---