| | |
| --- | --- |
| Varia | Siberian and American Pipit Anthus rubescens japonicus/rubescens |
<![if !vml]>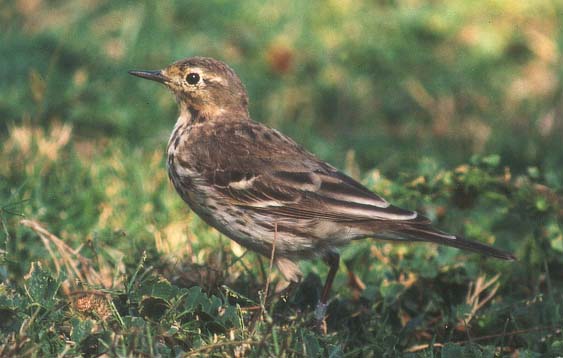 <![endif]>This Siberian (Buff-bellied) Pipit (A. r. japonicus) was photographed at Ophira-Park, Eilat, Israel, on the 1st of April 2000. It was one of at least two birds there present and the one easiest to be found, being ringed.
<![if !vml]>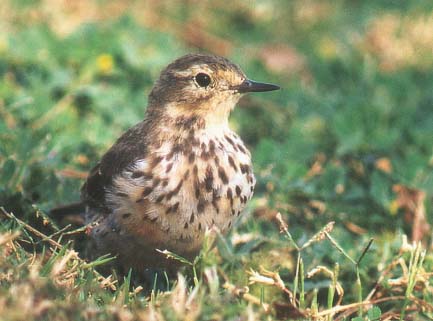 <![endif]> In the picture above and to the left some key features of this (sub)species can be seen, such as the pale lores, the complete eye-ring and the distinct supercillium. The upperparts are dark grey-brown and sparsely streaked. The large white tips to the median and greater wingcoverts (the first in fresh plumage being bolder than the latter) and the large dark malar-patch -both in a more fresher plumage good fieldmarks- are mostly worn off. The underparts are distinctly streaked, in that recalling Red-throated Pipit. Some summer-plumage buff is already shining through in the face and underparts.
<![if !vml]>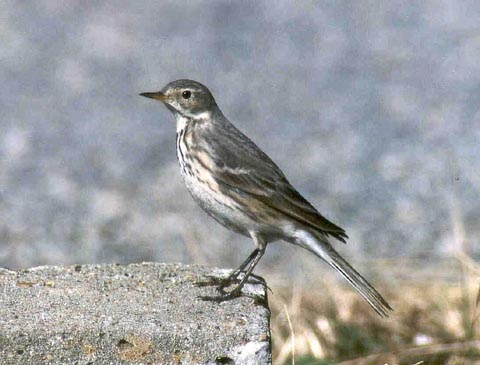 <![endif]>
American (Buff-bellied) Pipit A.r. rubescens. Brazos Bend State Park, Texas, USA, 16 December 2000. Both pictures by Roef Mulder. The underparts are more diffusely (pencil-) streaked. The upperparts are of a greyer tone than in Siberian Pipit. The legs are black on American Pipit and dark-red or paler on Siberian.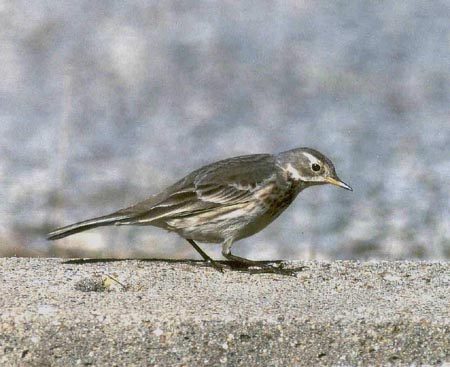 <![if !vml]>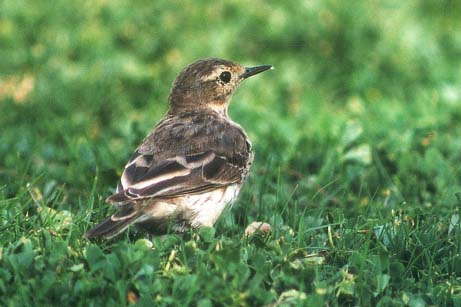 <![endif]>Again, the sparsely streaked upperparts can be seen, thus separating it from Meadow Pipit A. pratensis. Note also the rather slender bill. In the picture below the dark-red legs are visible. In Water Pipit A. spinoletta they are deep black. The latter has also got dark lores.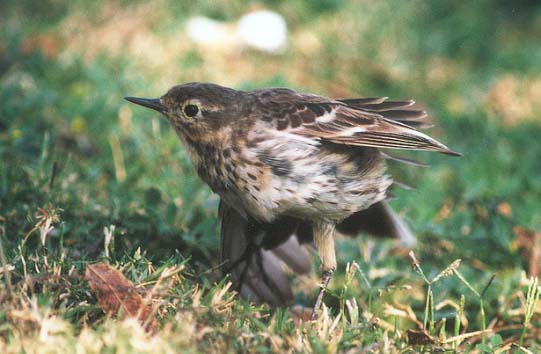 For a more in-deep article on SBbP at surfbirds.com click here
For more great S(Bb)P-pictures at Dick Newell's site click here
For American (Bb) Pipit showing features of Siberian click here. Identification of the two (sub)species might not be that straightforward…
---
Back to the main page
---